You are currently on the:
CMHA National
Visit our provincial websites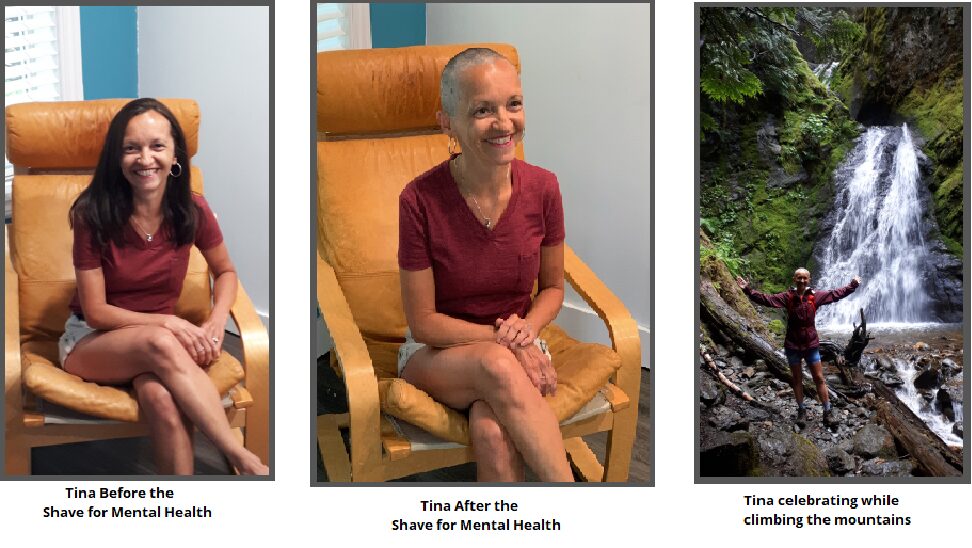 Shave for Mental Health a SUCCESS
Jul 27, 2023
Many thanks to Tina Herman and those who donated to her in support for mental health!!
Tina began her own campaign "Shave for Mental Health" with a goal of $2000 and proceeds going to Canadian Mental Health Association for the Kootenays. With Tina's supporters she raised $3160!!
Tina shaved her hair on June 13, 2023 at Chemical Addiction Hair Studio in Ootischenia, BC (outskirts Castlegar, BC). The hair was donated to 360 Hair in Langley, BC to make free wigs for cancer patients under the age of 19.
Tina was impressed with what her friend Frank was doing, that she joined him hiking Observation Mountain from 6am to 6pm. While a group of friends hiked, many others showed their support by donating funds to their cause – mental health.
After going live on the local radio station, the Goat Radio aired Tina's story and that she was going to do another hike, this time in Ootischenia and hiked Dove Hill from 6am-6pm on June 17, 2023. Tina was never alone for the entire 12 hours of hiking as she had friends come out to support her on her journey to raise awareness for mental health and money for CMHA Kootenays. This campaign was a great success.
Mental health is an important issue not only in Tina's life, but mental health affects us all.
While this campaign is now closed, you can still donate to Canadian Mental Health Association for the Kootenays in your support of "Mental Health for all"!
Thank you Tina and all those that supported Tina in this venture. CMHA Kootenays is truly grateful for your support.